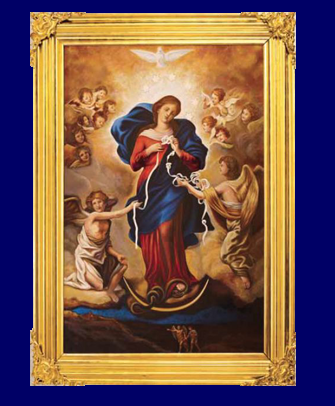 The painting by Johann Georg Melchior Schmidtner, of around 1700, is in the Catholic pilgrimage church of

St. Peter am Perlach,

otherwise known as the Perlach church, in Augsburg, Bavaria, Germany.
Do you have lots of issues, big and little, that seem to tangle up your life and keep it from looking like the smooth ribbon you wish to live? Perhaps you'd like to join me then. This morning I started a Novena to
Our Lady Undoer of Knots
. It
is such a
beautiful novena and it also happens to be a favorite devotion of Pope Francis. You can read more about it
here.
I love the idea that Our Lady is in Heaven, working to straighten out our lives. So far in my only eight years of motherhood, I realize this is one of the motherly duties, day-in and day-out. It makes sense then that Our Mother would lovingly do that for us.
Keep me, guide me, protect me, o safe refuge!
Mary, Undoer of Knots, pray for me
Update...
one of the small knots in my life has been my inability, while involved with my recovery, to keep in touch with a lovely couple from our parish. They are in their 80's and raised 5 children in a house around the corner from us. In the past few months, they were both forced to go into a nursing home (thankfully the same one) due to poor health. We had been writing and calling but I've fallen away from that for a few weeks. I have been feeling guilty about not making time to reach out and it was really weighing on my heart. Don't you know, as I was posting the prayer above, the phone rang with Mr. Tony on the line. Our Blessed Mother...what love she has for us! We are so very blessed :0)